Miniaturk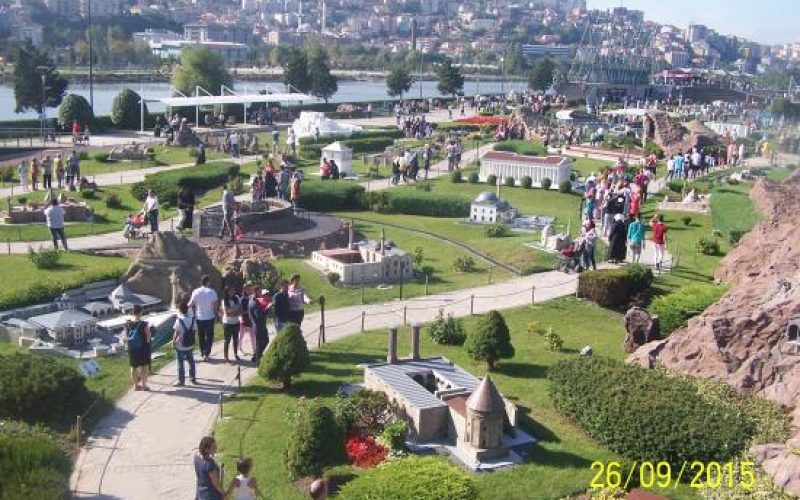 Miniaturk
Miniaturk is also named as the "Showcase of Turkey", where you can find many important structures of Turkey in small scales, models of architectural master pieces representing the Anatolian and Ottoman civilizations.
Models of 105 historical and architectural works, all made in the scale of 1/25, including the Library of Celsus at Ephesus, the Malabadi Bridge in Diyarbakir, Grand Mosque of Bursa, the Tomb of Mevlana in Konya, Dome of the Rock (Mescid-i Aksa), the Church of St. Antoine in Istanbul, the Ottoman galley, Savarona (Ataturk's boat), the Underground Cistern (Yerebatan), Stone houses of Mardin, Fairy chimneys of Cappadocia, Ataturk's Mausoleum in Ankara, Aspendos theater in Antalya, Hagia Sophia and the Maiden's Tower of Istanbul, can all be seen in one single place. There is also a miniature railway network, a motorway with moving vehicles, an airport with moving airplanes, thousands of human figures, and ships sailing across the Bosphorus. These dynamic models make Miniaturk a living park.
Built in 2003 on a 60,000-square-meter site in the Golden Horn, it is the largest miniature city in the world and has attracted lots of interest and is located opposite the Pierre Loti Coffee House in Eyup district, a favorite for travellers.
Open daily between 09:00-17:00
Write a Comment
Only registered users can comment.