Ürgüp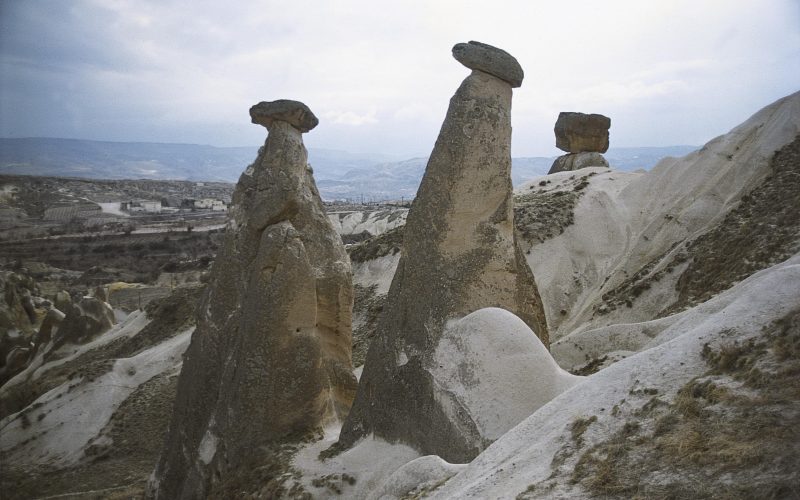 Ürgüp
Ürgüp has traditionally been the tourism center of Central Anatolia's Cappadocia region (map), though nowadays nearby Göreme Town has become an equally important touring base.
It used to be that Ürgüp was for upscale visitors and tour groups, and Göreme for backpackers, but that has changed. There are now excellent boutique hotels and inns in both towns, although does have many more of these.
Ürgüp is the largest and most developed settlement in the Cappadocia region. While it was connected to Kayseri province, it was later connected to Nevsehir province.
You can watch all around and its surroundings from Temenni Hill, the highest hill of Ürgüp. It has a beautiful view. It's always windy. To reach the hill, you pass through a 100 meter long tunnel carved from the rocks. Even the summit of Erciyes mountain (3917 mt) can be seen on the days when the weather is nice. Seljuk sultans 4. Kılıcarslan (1246-1266) and 3. Alaeddin Keykubat (1297 – 1304) are located in the tombs on the Temenni hill.
The center of ( pop. 18,000) boasts many fine old houses of carved Cappadocian stone. The soft volcanic tufa lends itself to carving for decoration and to expansion: if the house needs a new room, the residents merely hollow one out of the hillside into which the house is built.
The hotels in Urgup are bigger than hotels in other place in Cappadocia. There are many options from small boutique hotels to 5 star hotels.
The winery in Urgup is very developed. We definitely recommend you to taste and buy.
Like most Cappadocian towns, Ürgüp clings to the walls of a valley and tumbles down along the valley floor for some distance.