Ortaköy Square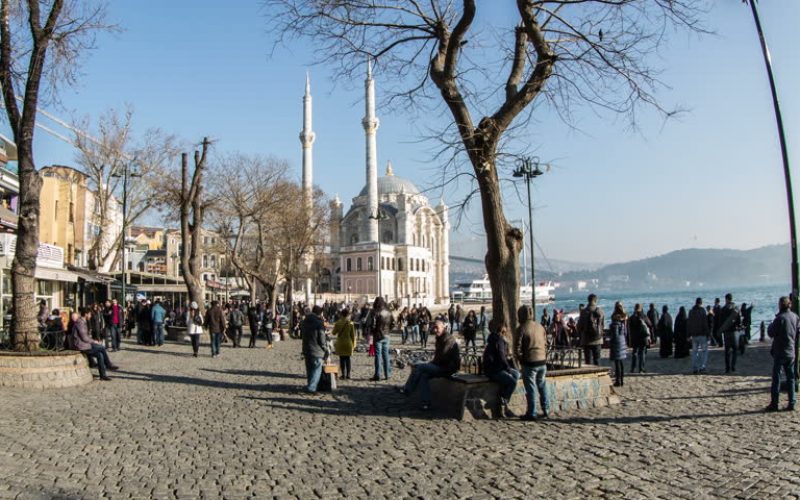 Ortaköy Square
Ortaköy Square is a place on the European side, on the shores of the Bosphorus. It is a 10 minutes walk from Besiktas square. Ortaköy Mosque is the symbol of the district.  It is located near under the Bosphorus Bridge.
Boats that make a short Bosphorus tour leave from the pier on the sea shore of the square. You can have short bosphorus boat cruise.
There are different religious symbols including Ortaköy, mosque, church and synagogue. It is one of the favorite places of Istanbul with its beautiful and colorful bazaar and lively atmosphere. Ortaköy is also one of the most popular meeting points of Istanbul residents with its popular night clubs, bars, nice cafes and restaurants, pier square and baked potato shops. We can recommend to eat baked potato (kumpir). It is a delicious food. You will like it.
One of the best events in Ortaköy is to visit the lively streets and shops of Ortaköy, buy baked potatoes and watch the Bosphorus at Ortaköy Square or sit in restaurants and cafes by the sea.
There is Yıldız park close to Ortaköy square, it is a nice place to get away from the noise of the city and relax. It is 5 minutes walk to the square.
One of the places to see in Ortaköy is the Büyük Mecidiye Mosque, known as Ortaköy Mosque. There is a Greek Orthodox Church named Ayios Fokas and a Synagogue named Etz Ahayim. There is also a historical fountain in the square and it is worth seeing.
Especially on weekends, on the narrow streets, handcrafted jewelry, hats, bags, second hand books and various colored handicrafts are sold. Night life is very active in Ortaköy square, especially in summer evenings.
When you come to Istanbul, we recommend you to visit Ortaköy and its surroundings.
Write a Comment
Only registered users can comment.