Museum Pass in Turkey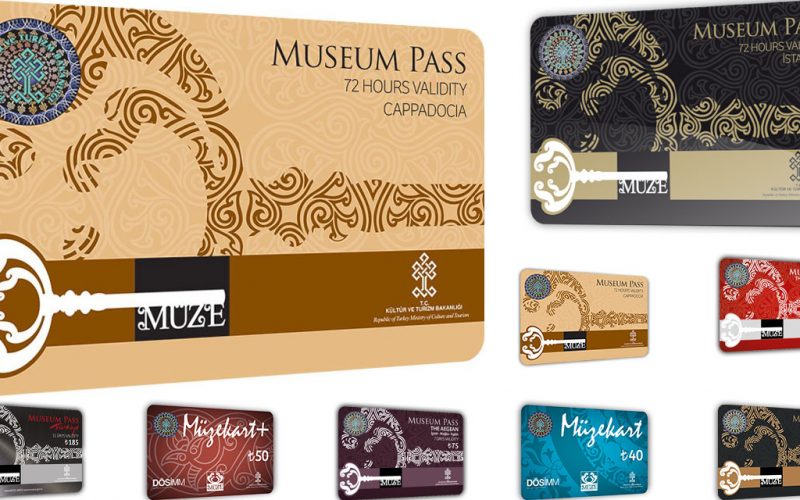 With this card, you will be able to visit the historical and cultural treasures of İstanbul, the capital city of three empires, whose history dates back over more than 9 thousand years, free of charge and skipping the ticket queue.
The Museum Pass İstanbul cards validity period begins with your first museum visit.
Each card can only be used at each museum once.
Museums can be closed without prior notice for essential maintenance works.
Museum Pass  Istanbul Sales Points;
Hagia Sophia Museum
Topkapı Palace and Harem*
Hagia Irene
İstanbul Archaeological Museums
Museum of  Turkish and Islamic Arts
İstanbul Mosaic Museum
Museum for the History of Science and Technology in Islam
Chora Museum
Fethiye Museum
Galata Mevlevi House
Rumeli Hisar Museum
Yıldız Palace
*Harem section is inside the Topkapı Palace.
Museum Pass Istanbul
The 5-day pass is sold for TL85 and is valid for one entrance to any or all of the following museums within 120 hours after the first use of the pass:
Hagia Sophia,
Topkapı Palace (including Hagia Irene Church; Harem optional for TL 15 more),
Istanbul Archeological Museums,
Museum of Turkish & Islamic Arts,
Museum for the History of Islamic Science & Technology in Gülhane Parkı,
Istanbul Great Palace Mosaic Museum,
Chora Church Museum (Byzantine Mosaics),
Rumeli Hisarı Fortress,
Yıldız Palace,
Istanbul Fethiye Museum (Pammakaristos Church).
Museum Pass Cappadocia
This 3-day (72-hour), TL45 pass gives you entry to :
Ihlara Valley,
Derinkuyu Underground City,
Göreme Open Air Museum,
Göreme Valley's Dark Church (Karanlık Kilise),
Kaymaklı Underground City,
Özkonak Underground City,
Nevşehir Museum,
Çavuşin Open Air Museum,
Hacıbektaş Museum,
Zelve and Paşabağlar Open Air Museums.
Museum Pass The Aegean
The 7-day, TL75 Museum Pass The Aegean allows you entrance to ;
All Ministry museums and archeological sites in the provinces of Izmir,
Aydın and Muğla, which cover Aphrodisias, Bodrum, Çeşme, Didyma,
Ephesus the city of İzmir,
Laodicea Marmaris,
Miletus,
Priene,
Sardis
Note that Hierapolis (Pamukkale) is not included in The Aegean pass.
Museum Pass The Mediterranean
The 7-day, TL60 Museum Pass The Mediterranean gives you entrance to;
All Ministry museums and sites in the provinces of Adana,
Antalya and Mersin-virtually the entire Mediterranean coast and hinterland from Kalkan and Kaş in the west to beyond Gazipaşa in the east, including Alanya, Antalya, Aspendos, Çıralı (Olimpos & Chimaera), Demre/Myra, Finike, Kaş, Manavgat, Side, Termessos, Tlos, Üçağız (Teimiussa) and many others.
Write a Comment
Only registered users can comment.