Ethnography Museum of Ankara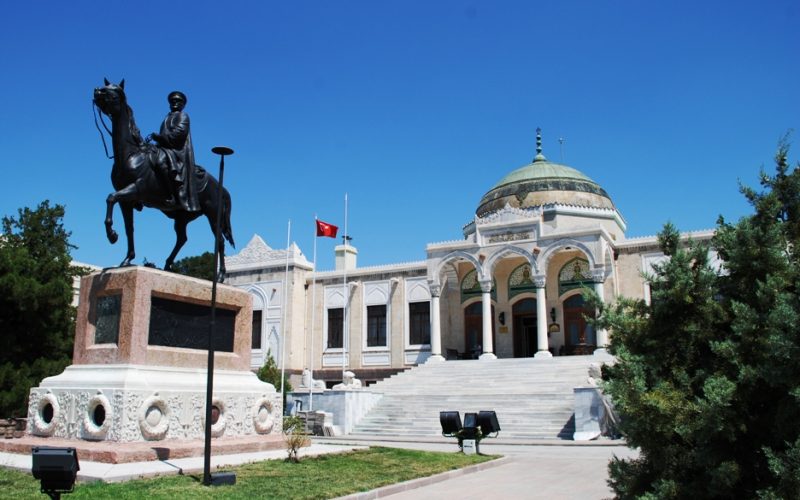 Ethnography Museum of Ankara
Ethnography Museum of Ankara, Namazgâh referred to by name in that neighborhood is built on a hill with a Muslim cemetery. The aforementioned hill, the General Directorate of Foundations in accordance with the Council of Ministers of 15 November 1925, the museum was donated by the Ministry of Education.
1924 in Istanbul, Prof. Jalal al-Assad (in Arseven) presidency, then the
Istanbul
Museum Director Halil Ethem presidency in 1925, a special commission has been established to collect artifacts and to buy. 1250 purchased the building, completed in 1927, it is exhibited in the museum. Hamid was appointed director of the museum also Kosay Zubayr.
Who visited the museum on 15 April 1928 Mustafa Kemal Pasha (Ataturk) after receiving information about the museum, because of Afghan King Amanullah Khan's visit to
Turkey
has wanted to open a museum service. 18/07/1930 Museum opened in public and in November 1938 the museum's inner courtyard was open until she left in a temporary grave. Atatürk's coffin in 1953 remained here until his transfer to the Mausoleum.
This section is still preserved as a symbolic homage to the memory of Ataturk's tomb. Written on it in white marble it has the following inscription: "This is the resting place of Ataturk until 10.11.1953 from 11.21.1938 to 10.11.1938 reaching infinity."
Ethnography Museum for 15 years, has seen the Mausoleum function. Heads of state, ambassadors, foreign delegations had visited the place and the people. Studies have been carried out at the museum during this period; On 6-14.10.1956, due to the International Museum Week, the museum was opened to the public again after the necessary changes.
Standing statue of Ataturk on horseback in front of the Museum of Italian craftsmen in 1927 by the Ministry of Education B. Conanica to etnografy Museum, is a museum that exhibits examples of Turkish art continued the Seljuk era until the present day.
Write a Comment
Only registered users can comment.