Taksim Square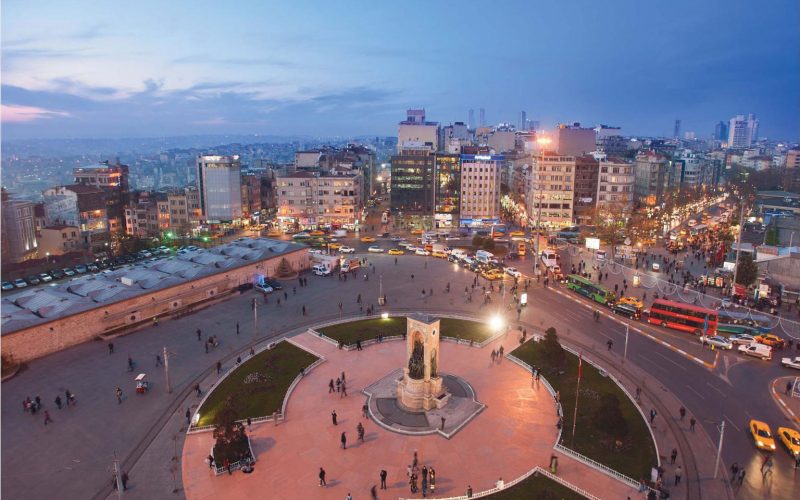 Taksim Square
Taksim square is the most famous square in Istanbul. There is a Republic monument in the middle of the square. The square has also hosted many political and social events in the past. Vehicle traffic in the square is lowered underground.
There are bus services from places close to the square. There are regular bus services to places such as Besiktas, Aksaray, Eminönü, Topkapi, Edirnekapi, Bakırköy, Ataköy, Yesilköy, Florya, Levent. There is a fast way to many places with the metro passing under the square.
The square is the meeting place of those who come to spend time in and around Istiklal Street.
It is one of the biggest touristic attractions of Istanbul with its restaurants, shops, hotels, entertainment and cultural places in and around the square.
It is always a lively nightlife, shopping and restaurant district. Nostalgic trams run on Istiklal Street, which is closed to vehicle traffic. There are 19th century buildings, international store chains, churches, cinemas, theater hall, art workshop, exhibition hall, bar, disco, cafes lined up on this street. Small narrow side streets also feature bars, antique shops and rooftop restaurants with Bosphorus views.
Especially on weekends, there is a 24-hour movement in Taksim; Most of the buffets (including some on weekdays) at the entrance to the square are open all day on the weekend. Night clubs do not close until the morning hours. Transportation is provided around the clock with taxis located near the square and is a place where absolutely everyone can meet.
Galatasaray fans fill the square on match days
Galatasaray sports club, Turkey's oldest (1905) and is one of the biggest sports club. They have more than 30 million fans. They have yellow red colors. It is called "lions".
Galatasaray fans on match days they have to go by metro to stadium.