Nuruosmaniye Mosque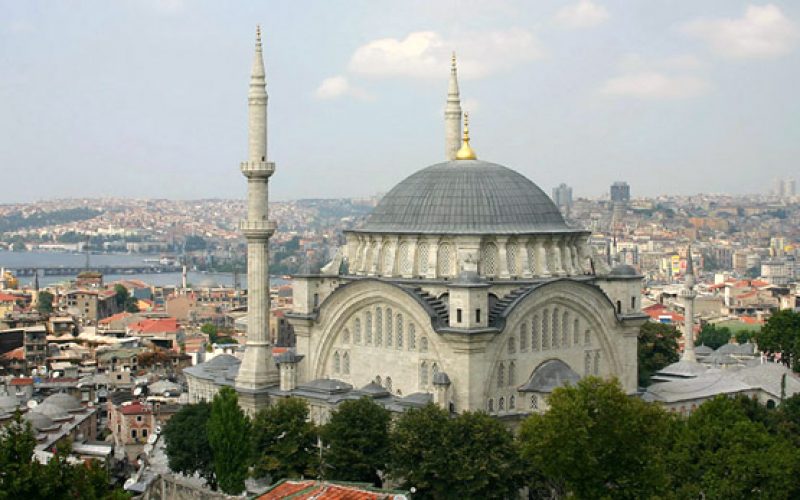 Nuruosmaniye Mosque
Nuruosmaniye Mosque in Istanbul, The construction of the Nuruosmaniye Mosque was started by Sultan Mahmud I in 1748 and completed by Sultan Osman III in 1755. It's a typical Baroque and Rococo style mosque which was a very popular architecture of 1700's within the Ottoman Empire. The mosque was built on one of the seven hills of Istanbul by a Greek minority architect named Simeon and Mustafa Aga.
The mosque has a semi-circular courtyard with no fountain for the ablutions but only taps today. There are two minarets each having two balconies. It has a single dome and no column within the prayer hall but raised on four large arches, having a diameter of 25 meters (82 feet) and the height of 43 meters (141 feet). There are many ornaments on its main walls, stone crescent on the minaret tops, stone work of the niche (Mihrab) and the pulpit (Minbar). On the east corner of the prayer hall there is the sultan's lodge with latticework between its columns, accessed by a ramp outside the mosque. The existence of many windows provide lots of light but also justifying the name of the mosque: Nuruosmaniye means "The Light of Osman". It also gave its name to the neighborhood.
The Nuruosmaniye Complex has a manuscript library as well with thousands of volumes containing also collections belonging to the sultans. This section is closed to the public except researchers with special permission. In the complex, there is also a medresse and a soup kitchen to the north, a mausoleum where Sultan Osman III's mother (Sehsuvar Valide Sultan) is buried, and a public fountain.
The mosque is in Nuruosmaniye neighborhood near Eminonu, just next to the Grand Bazaar, to the northwest of the Cemberlitas column.
Nuruosmaniye Camii
No:13 34440 Cemberlitas – Istanbul
Tel: (212) 528 09 06
Open daily except prayer times