How to Travel in Istanbul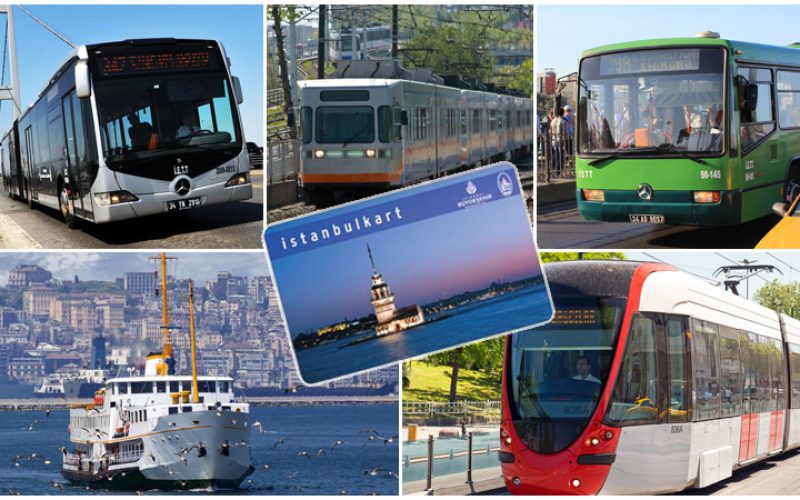 The Istanbulkart is sold at ticket booths near major transportation hubs like Eminönü, Taksim and Beşiktaş. Also it's widely available at the nespaper stands and kiosks near major transit stops such as Eminönü, Sultanahmet, Sirkeci, Taksim, etc.
You pay a deposit of 10 lira (which is refundable when you'll return the card) for the card itself, then you can load as much credit as you'd like on it using the self-service kiosks named as (ISTANBULKART DOLUM NOKTASI, meaning Istanbulkart refill point)
You can use your Istanbulkart for more than one person. It provides discounts for both each independent ride and every connecting rides within two hours.
To use your Istanbulkart, you will need to place the card on the electronic readers placed on top of the turnstiles. You will hear a bip sound which says that you are okay to pass. You can monitor the remaining credit from the digital screens on the turnstiles after each use.
If you will be in the city less than 4 days, maybe you will not bother having an IstanbulKart. In that case your only option is to buy "jeton" (token) or "elektronik bilet" (electronic ticket) from the vending machines clearly marked as JETONMATIK and BILETMATIK. Those machines are easy to use and accept both banknotes and coins and dinpense as many units as you'd like. Alternatively, you can find electronic tickets at the newspaper stands, kiosks and ticket booths near stations, piers and stops.
Istanbulkart is not sold at Ataturk Airport so you'll have to use JETONMATIK to get your token for metro.
METRO and TRAMS:
Metro stations are marked with letter M in blue and red colors.
Currently there is extensive work going on to extend the coverage of metro including the world's first intercontinnetal tube project Marmaray (which will connect Europe and Asia through a tube beneath the Bosphorus Strait. Here is the map of metro in Istanbul:
urbanrail.net/as/tr/istanbul/istanbul-map.htm
FUNICULARS:
They are basically metro trains that go only one stop connecting one sea-level point to a higher point on a hill. There are two funiculars in Istanbul. One is called as TÜNEL (F-2) which is one of the oldest subways of the world dated back to the Ottoman Empire. Tünel climbs the hill from Karaköy to Beyoğlu (Istiklal Street). There there is a connection possible with the nostalgic tram (T-5) that goes all way till the famous Taksim Square. The other funicular (F-1) is a modern one and climbs the hill from Kabataş to Taksim (it has seemless connection with the T-1 tram line and M-2 metro line.
CABLECAR.
There are two cablecars in Istanbul one of which is not operational at the moment. The other one connects Eyup and Pierre Loti where one can enjoy the fabulous views of the Golden Horn.
FERRIES:
Istanbul is a city of the seas. Ferries are inseperable part of the urban life. They are clean, comfortable and inexpensive way of crossing to the other side of the city. Here is ferry timetables:
http://www.sehirhatlari.com.tr/en/
IDO FAST FERRIES and SEABUSES:
It's also a good way to go in and around Istanbul with IDO ferries. IstanbulKart is accepted for the innercity routes. For more information have a look:
You'll need Google Translator for English since their English pages are not available at the moment.
BUSES:
Istanbul buses come with different colors. Don't be confused about it. They can be in green (means they are environment friendly), purple, yellow (means they are furnished specially for the disabled people), turquoise (meaning they are run by private companies). All them will accept your IstanbulKart and/or electronic tickets. For more info on the routes and lines:
MINIBUSES:
They are vans (or minubuses) operated as shared taxis. They have routes as well and stops for sure. However it is very common that you can hail one of them as you do for a taxi. They will not accpet any payment other than cash.
HAVABUS SHUTTLES:
There is no cheaper way to go from either of Istanbul's airports to the city center. Their stops are conveniently located in front of the arrivals exit of the both airports. For their routes and fares, have a look:
SEATAXI:
It's also very convenient to go one shore to the other just using these motorboats which provide a fast, customized and private journey around the clock. For more information:
TAXI
Turkish taxis are fitted with digital meters. If your driver doesn't start his, mention it right away by saying 'saatiniz' (your meter). Check your driver is running the right rate, which varies from city to city.
Some taxi drivers – particularly in İstanbul – try to demand a flat payment from foreigners. In this situation, drivers sometimes offer a decent fare; for example to take you to an airport, where they can pick up a good fare on the return journey. It is more often the case that they demand an exorbitant amount, give you grief and refuse to run the meter. If this happens find another cab and, if convenient, complain to the police. Generally, only when you are using a taxi for a private tour involving waiting time (eg to an archaeological site) should you agree on a set fare, which should work out cheaper than using the meter. Taxi companies normally have set fees for longer journeys written in a ledger at the rank – they can be haggled down a little. Always confirm such fares in advance to avoid argument later.