Aydın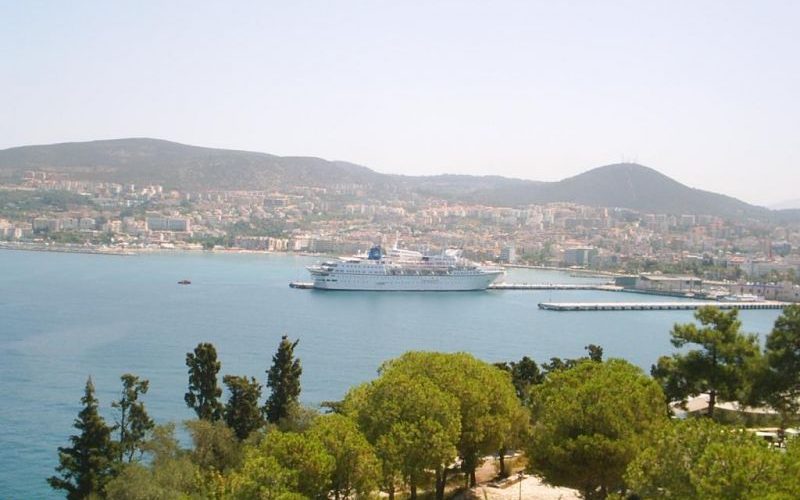 Aydın
The intersection of big touristic centers"
Aydın is an important city for Turkish tourism with its counties having a lot of cultural, historical and touristic places in Turkey. Besides Kusadası and Didim which are very active especially in summer and should be seen, there are a lot of places to see also in Aydın.
High Season
Aydın and its surrounding starts to attract people in April and the season ends in October. Especially in July and August a lot of foreign and local visitors come to Aydın. The active atmosphere can be felt everywhere in the region. Because of the Mediterranean season that is prevailing in Aydın, in summer the weather is hot and dry and in winter cool and rainy.
Transportation
Direct buses to Aydın can be found from Izmir, Istanbul, Ankara and from the other cities. Those that prefer sea transportation can use Kusadası Harbour. Yachting is also popular.
History
Settlement to Aydın began in 7000 B.C. First city states were established here. Aegean, Mediterranean and Anatolian tribes formed civilizations in this region. The Ionians established states near the sea, because of the harbours they succeed in trade, got richer and used these to improve culturally. The Lydians helped the region to become center of arts and philosophy. They did farming on the productive Büyük Menderes soil and exported their products to Mediterranean cities. The first coin money of history is also used by the Lydians. When the Lydia invaded by the Persians, the successful era of the region ended. The Macedonian King Alexander The Great who ended the Persian sovereignty caused Hellenism beginning. With Hellenism, the regions progress in science, arts and philosophy continued as before. The Roman domination that began on A.C. 1. century fastened the region's trade activities. The establishment of the Byzantium also influenced the stability of the region positively. In this period, unique architectural works are done. After the Turkish settlement in Anatolia, Aydınogulları began to rule the area. Aydınogulları also tried to protect the cultural characteristics of the region. The region that joined the Ottoman Empire in 14. century witnessed the rebellion of the swashbuckling village dundies. Today Aydın with its districts attracts many visitors from all around the world.
Highlights
Aydın's counties are the Turkey's most developed vacation places. There are long beaches, five-star hotels and holiday villages, discos and bars. Kusadası is a big destination center by itself. Didim is important for its cultural inheritances and summerhouses. The historical places like the Ephesus and Selçuk are enhancing the area's fame. One should see the Ephesus, St.Mary's House and Yedi Uyuyanlar if s/he is in Aydın. The region is well developed in terms of trade and industry. This can be understood from the existance of Organized Industry Regions in Söke and Nazilli. Dilek Peninsula's national park is also a unique place.
There are a lot of antique cities in the area such as Afrodisias, Akaraka, Alabanda, Alinda, Antiokheia, Dydyma, Magnesia, Milet, Nysa, Priene, Tralles which are known all over the world.
Aydın is also special for its health resorts. Gümüşköy, Aydın,Germencik and İmamköy hot springs are said to be healing rheumatism, skin and heart problems.
In Aydın's city center there are mosques and fountains remained from Selçuks, Ottomans and Aydınoğulları. Also the Mehmed Pasha Caravanserai is an indicator of Aydın's importance in trade. Another place to see is the Aydın Museum.
Cuisine
A lot of good quality and nice restaurants can be found in Aydın. Especially the ones that serve Aegean cuisine and home made food are popular. For those who need advice we recommend Deniz Restaurant and Sarıoğlu Restaurant. Aydın has specialties such as bread that is made of poppy. It can be found on bakeries but it's also sold on the streets. The jam is also famous in Aydın. The eggplant jam which is made of eggplant marinated in lime water is very delicious. The fig jam is also very good.
Nightlife
Rather than discos and bars, there are clubs in Aydın. But in summer the small towns, especially Kusadası are ideal for those that enjoy nightlife.
Outdoor Sports
Swimming, surfing, saling, diving and parachuting are among the activities that can be performed in Aydın. Activities like water skiing and canoeing are also developing by time. Also in some villages trekking and bushwalking are popular. There are a lot of camping places around this area. Tavşanburnu is a good place for nature lovers. If you like nature photographing, Aydın is the right place to go.
Health
There are state and private hospitals and clinics in Aydın. For those having health problems, these health centers serve very good.