Ankara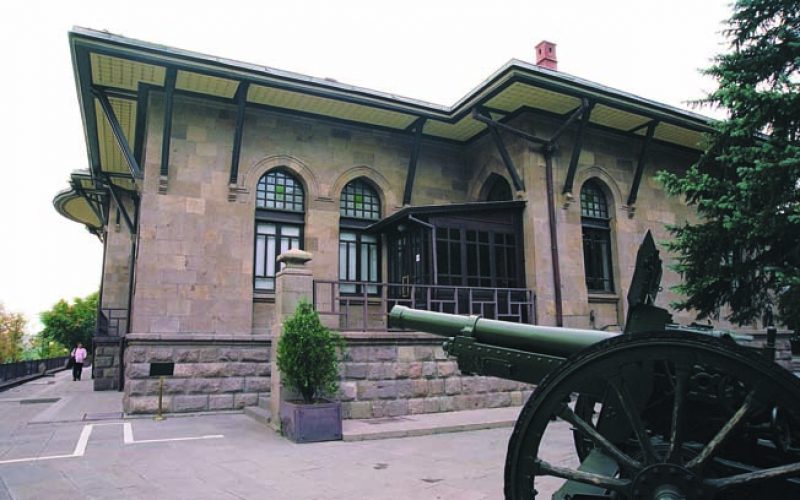 Ankara
Ankara is the capital city of Turkey and the second largest city in the country after Istanbul. It is located at the heart of both Turkey and Central Anatolia. The population is around 4.5 million.
Ankara is the administrative center of Turkey and a huge university town, so it has a large population of government workers and university students. As the national capital, Ankara is home to a large population of foreign diplomats and embassy staff, so it offers goods and services that might be more difficult to find in other Turkish cities.
Ankara is a sprawling, modern city which can appear as little more than a dull, concrete jungle at first glance. As a result, many tourists tend to use it merely as a transit point for getting to places like Konya or Cappodocia. However Ankara does have a lot to offer for those prepared to look a bit deeper.
Ankara has a symbolic significance for the secular Turks. It is the place where a new era for the Turkish people started. It is a symbol for independence, development and Western values.
History
Ankara was a small town of few thousand people, mostly living around Ankara Castle, in the beginning of the 20th century. The fate of the city has changed, when Mustafa Kemal Atatürk and his friends made Ankara the center of their resistance movement against the Allies in 1920, and established a parliament representing the people of Turkey, against the Allies' controlled Ottoman Government in the occupied Istanbul of post World War I. Upon the success of the Turkish War of Independence, the government in Istanbul and the empire was abolished by the Grand National Assembly of Turkey in Ankara in 1923, and the Republic of Turkey is established. When you look at the modern Ankara of 5 million people today, almost all that you can see was built afterwards.
This doesn't mean that Ankara does not have any history of its own. Located in the center of Anatolia, Ankara's history goes back to second millennium BC. Footsteps of Hittites, Phrygians, Lydians, Persians, Greeks, Galatians, Romans, Byzantines and the Turks are still present.
The name Ankara has originated from the Celtic word of Ancyra, meaning Anchor. The original reason for using the name anchor in an inland city is not certainly known, but there are several different myths. King Midas, whose touch turned everything into gold in the mythology, is buried in the ancient site of Gordion, in suburban Ankara.
If you are traveling through Ankara's Esenboga Airport, look for the wide fields around. This is where Timur the Lane defeated Ottoman sultan Bayezid I in 1402, on the great Battle of Ankara. The district of Esenboga keeps its name since then, as one of Timur's famous generals and the commander of his famous elephant fleet "Isin Boga" has set his base here.
Ankara was recaptured by the Ottomans in 1403, and remained under Turkish control since then.
Features
Apart from the old town in and around the citadel near Ulus and unplanned shanty town neighbourhoods inhabited by people from rural areas in the last five decades, most of Ankara, which was a provincial town of 20,000 people in the early days of the Republic, is a purpose-built capital due to its strategic location at the heart of the country. The history of settlement in the area is millenia old.
The biggest claim to fame of the town used to be the long-haired local breed of goats named after former name of the city (Angora), out of which high quality mohair textiles were produced, today the only place where you can spot them in city is the lawns on the side of a clover-leaf interchange on the highway west—in the form of cute sculptures.
Ankara being a young and modern city makes her face an identity problem. The increase of population from couple thousand to several million in less than a century means that almost everyone came here from somewhere else. Finding a native "Ankarali" is challenging, as a result. The population and culture of Ankara, therefore, is a mixture of everything Turkey offers, with people of origins from all cities of Turkey.
Orientation
Ankara is quite a large city, with different towns and neighborhoods of their own characters. In a very simplified manner, most attractions of the city run through the long Ataturk Boulevard, running and diving the city north to south. Starting from Ulus Square, going towards south in Ataturk Boulevard, you will reach Kizilay, Kavaklidere and then Çankaya. As you pass through these districts one by one, the standards visibly increase.
Ulus is the historic center of Ankara, with most museums, early republican buildings, and the ancient Ankara Castle. Being the most elegant center of the republic in the beginning of the 20th century, now the area has left its charm, and is a messy, crowded neighborhood. Unless you are looking for the real cheap, (rather than some specific selections) not recommended for dining, accommodations or nightlife. In case you are interested to get a feeling of how life was once in Ankara, find Hamamonu District, the newly restored neighborhood with old Ankara houses. A famous spot for the conservative Ankarans, walk through the narrow traditional streets, and sip your Turkish coffee in an historic wooden house, especially at the night. Do not expect to find alcohol at Hamamonu.
Next, Kizilay is the working class center of Ankara. The famous Kizilay Square, named after the now-demolished "Red Crescent" headquarters building, is Ankara's political center. Throughout the decades, lot's of protests and rallies has taken place in the square, and even today, this is the center of the political protests. Many roads and streets around Kizilay are better discovered on foot, and there are lot's of budget restaurants, cafes, bars, and clubs of different taste. Sakarya Caddesi (Sakarya Road) is a messy pedestrian area with fisheries, street sellers and restaurants. Pass over the southern side of Ziya Gokalp Caddesi, the parallel vehicle road, and you will reach the district around Yuksel Caddesi (Yuksel Road). This pedestrian neighborhood is a left oriented area, with several culture centers, cafes, pubs, restaurants and bookstores. Many locals looking for quality avoids Ulus and Kizilay.
Continuing southern, the area after Kizilay and up to Kugulu Part (Swan Park) is Kavaklidere, also simply known Tunali district (Tunali Hilmi Caddesi/Road runs parallel to Ataturk Blvd, and locals simply name it and around as Tunali.) The area is more cosmopolitan, open minded, and popular among the young. The back streets are full of cafes, restaurants, pubs to rock venues.
Walking up from Kugulu Park (Swan Park), pass to Arjantin Street and in the end, turn left to Filistin Street. These two are where the top end cafes and restaurants are found, full of Ankara's chick and elegant going there to see and be seen. Further south, you reach Atakule Tower at Çankaya, the diplomatic center of Ankara, with the Presidential Palace and most embassies. From Kugulu Park to up, Ankara's nicest parks are aligned, namely Segmenler Park and Botanical Garden, in addition to small but cure Kugulu Park.
Rather than this alignment on Ataturk Blvd., check Bahçelievler District, west of Kizilay. 7th Road (7.Cadde) and around is a student oriented and family friendly region with shops, cafes and restaurants.
Further west, through Eskisehir Road, you will pass through the once suburban neighborhoods of Bilkent, Umitkoy and Cayyolu, which are new modern towns, less of an interest to tourists, but offers good dining and nightlife. Visit Park Caddesi, the areas newly created nightlife center.
Getting Around
Ankara is well connected by a good public transport network system. Private and public bus operators compete for your patronage and there are the 'dolmus' minibus transport providers that offer rapid tranfers and get you to your connection points. The underground subway 'Metro' is highly efficient which runs between outer suburbs and the interstate bus terminal 'ASTI'. Taxis are readily available and are probably the best way to get to your destination, relatively inexpensive for the time poor traveller.
It depends on where you are living / staying. If you are in Cayolu (new upper middle class area of the city) the metro services along Eskisehir Road and is convenient if you live next to Umitkoy or Arcadium. It will take you right to Kizilay (the center of town). If you want to hang with the college kids go to Bahçelievler it's on the Ankaray a really old stuffy tram underground (reached from Kizilay station, look for green signage). The actual metro is very modern and announces things in Turkish and jilted English (Listen for the phrase "Dear Passengers"). But it's always warm in the Metro, beware.
If you want to go to Tunali where all the hip/ non-trashy cafes / bars are then get a cab it'll cost you. But it's often faster than Metro to Kizilay. But if you want a taxi be warned very few taxi drivers speak English. Use key turkish words, Kizilay, Kugulu Park (with the "swans"), Cinnah (pronounced Jennah) (name of major road near hip expat places), or American (they'll think you mean embassy). A taxi from the airport will cost you like $40-60 USD, be prepared. Always be polite, taxi drivers are very nice just like the Turkish people, even though tipping is not expected, tip a Lira or two above your cab fare, if it's a long ride tip a little more. Always say teşekkürler (pronounced teshek kewlor, means thank you in an informal way, may see teşekkür ederim in guidebooks but few people use it.). Besides a lira is like .33$ and the driver will go out of their way to make you comfortable as long as your not obnoxious/ drunk. Expect a radio station blasting either Turkish radio or English EDM. Bring headphones. Most are not chatty unless your in a really touristy place like Kizilay and happen upon a driver who speaks some English. Point and direct is the best way, most are almost always honest and use the meter. Don't rely on address, but name of neighbourhood (mahallesi, usually abreviated Mah.) then major landmark or hotel name. When you get in the taxi starting with a "Merhaba" Hello will go a long way even if you don't speak Turkish. Don't worry if you look western they won't expect you to speak English. It's a thoughtful gesture. In many areas of the city look around there are yellow signs with buttons that you can press that will automatically call a cab for you. Or just walk and find a taxi stand.
If you're in for a real Turkish moment wait for a Dolmus (like a shared taxi with 10+ other people). They will stop where you want to stop (provided it's reasonable and safe) and it's cheap. Depending on where your going (in affluent areas) there will usually be someone on board who can interpret your flailing hand gestures and tell the driver to stop. (expect anywhere from 3-5 Lira for a short trip) Can be very convenient if going to the malls (along Eskisehir not easily reached by metro) where most Middle class turks seem to carry on with their social lives. If you get lost most end up on one end in Kizilay or Asti. It's worth the experience, closest thing you'll get to being a local commuter.
Climate
As any other part of the Anatolian highland, Ankara has continental climate. The winters are cold and usually snowy. Temperature is commonly below the freezing point during this season, but it rarely drops below -15°C at nights. Thanks to the low levels of relative humidity, the hot and dry summers are more comfortable than coastal regions of Turkey. Average daily temperatures in midsummer are around 30°C. Daily temperatures can reach 35°C and above, but is not common and usually last no more than a few days. Summer nights are cool, though, so be sure to bring at least a cardigan with you to wear outdoors. Spring and autumn are the wettest seasons, but with an annual rainfall amount of 415 mm (i.e., a semi-arid climate), you are unlikely to get much wet during your trip to Ankara, anyway.
Get in
By plane
Ankara Esenboğa International Airport (ESB) is located some 28 km northeast of the city. International flights are rather low in frequency and scope – apart from Turkish Airlines (THY), Lufthansa, Austrian Airlines and British Airways offer direct flights to their respective European hubs. Iran Air also has two weekly flights to Tehran. For other carriers flying into Turkey, a flight into Istanbul is necessary, followed by an air transfer to Ankara by Turkish Airlines or Anadolu Jet (a low cost brand of Turkish Airlines).
The brand-new airport terminal was opened in 2007. It features many more gates, a more orderly parking system, and in general, better traffic flow. The road connecting Ankara's airport to the ring road has also been fully renovated.
Airport buses are operated by Belko Air, who operate a fleet of modern coaches. The bus number is 442 and it stops at multiple locations including Aşti (where intercity buses depart), Kızılay (the city centre) and Ulus (the historical center of the city, close to the museums and baths). Bus 442 runs in a loop and buses depart frequently (roughly every 20 minutes). It is possible to take this bus from any of its stops back to the airport. Tickets can be bought on the bus after boarding. Note that announcements are made only in Turkish and you may not find any English-speaking staff. This is the most economic way of reaching the city center, after which you can take a taxi.
By train
Ankara is the eastern terminus of the Turkish high-speed rail system (YHT), with frequent fast trains to Konya, and via Eskişehir to Istanbul Pendik. Trains to Eskişehir and Konya take 90 minutes and those stations are within 3-5 km of their town centres, so they are easy day trips. Trains to Istanbul take 3½ hours to Pendik, 25 km east of city centre and involving a 90-minute transfer: see Istanbul page. Pendik is convenient for Istanbul Sabiha Gokcen airport (10 km, taxi or bus).
Destinations east of Ankara are served by slow overnight trains, the main services being to Diyarbakir and Kurtalan (the Guney Kurtalan Express), to Erzurum and Kars (the Dogu Express), and to Tatvan (the Vangölü Express), thence by dolmus to Van.
For times and reservations (strongly recommended) see Turkish railways website at tcdd.gov.tr. Note that Ankara railway station is partially closed for rebuilding until 2018. The main impact on services is expected to be:
• YHT trains to Konya, Eskişehir and Istanbul Pendik mostly unaffected;
• Most eastbound services have bus replacements to Irmak 60 km east of the city, and altered timings;
• Some mainline services cancelled or curtailed, eg the Cukurova Express to Adana;
• Most suburban trains cancelled.
For other reasons, international trains to Iran, Syria and Iraq are all suspended indefinitely. However trains to Georgia, suspended since 1993, may resume in 2017 when the Kars-Tbilisi line opens.
The railway station is 1 km SW of the old quarter, and 3 km NW of Kızılay. Many public buses and dolmuses stop right in front of the station. The nearest metro, about 1 km away on the edge of the old quarter, is Ulus. Be aware that metro services are also being disrupted by the station construction.
By bus
If you are traveling from places other than Istanbul, you will find buses fast, inexpensive, and modern.
The buses terminate at the bus station (otogar) named AŞTİ (pronounced ush-tee and almost exclusively known as such locally; Ankara Şehirlerarası Terminal İşletmeleri) standing for "Ankara Intercity Terminal". Most of the cities in Turkey have direct buses to the capital of Turkey, and buses are much faster than trains in Turkey. From Istanbul to Ankara, the bus trip takes around 5 hours. Hundreds of companies operate buses to anywhere in Turkey. The companies with bigger ticket desks in AŞTİ are most of the time more convenient, but more expensive.
AŞTİ is connected to the Kızılay Square and a number of other central locations by a metro line. There are also free of charge shuttle buses to Kızılay (and a number of other locations) run by the AŞTİ administration. They depart from behind the main building.
With full English support:
Get around
The city has a dense public bus network, a two-line subway called Ankara Metrosu and a single line suburban railway called Ankara Banliyö Treni.
For tourists, Ankara's public transit system, particularly the public bus network, can be difficult to figure out, because maps are rare and all information is in Turkish. Nor is there any access provided for disabled travellers in any form of public transport. Buses and metros tend to be very crowded during rush hours, especially on Mondays and Fridays.
If you know the city well, public transportation, especially the metro, is an ideal, easy, quick and cheap way to get around particularly for longe